Installing Cortona Viewers and configuring your browser settings for these plug-ins
Check that Cortona2D or Cortona3D viewer is installed. Click Start > Control Panel > Programs and Features. Sort the list by Publisher and look for "ParallelGraphics" or "Paragraphics Ltd".

If you do not have them installed, then please follow this link.
Ensure that the browser does not block the plug-in.
Internet Explorer 11
Allow Internet Explorer to run Cortona3D Viewer add-on: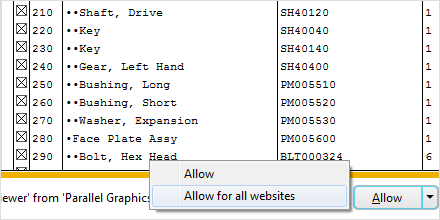 Allow Internet Explorer to run Cortona2D Viewer add-on: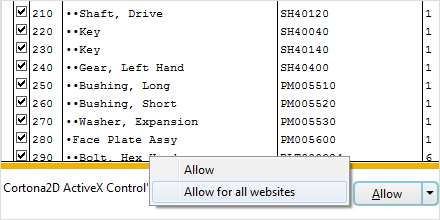 Firefox
If you are using FireFox browser version 52 and later, please refer to this article.
For FireFox browser version earlier than 52 please perform the following:
Enter in your address bar: about:addons
Find in the list two add-ons "Cortona3D Viewer" and "Cortona2D Viewer". Select option "Always Activate" for both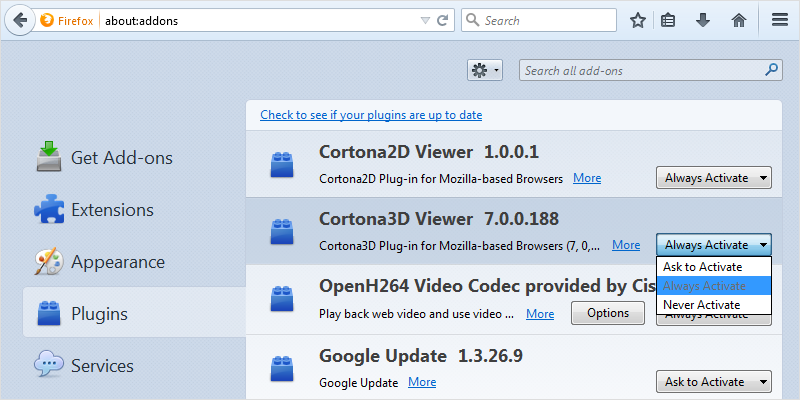 Chrome
If you are using Google Chrome browser version 42 and later, please refer to this article.
For Google Chrome version earlier than 41, but later than 10, please perform the following:
Enter in your address bar to following link: chrome://plugins
Find in the list two add-ons "Cortona3D Viewer" and "Cortona2D Viewer". Then select option "Always allowed":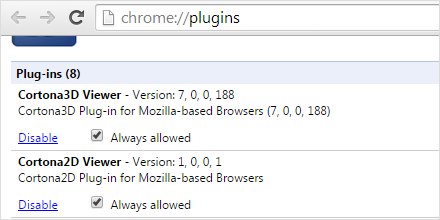 After this go to your content tab and press Reload this page: