RapidAuthor 14.3
Release Notes
Webinars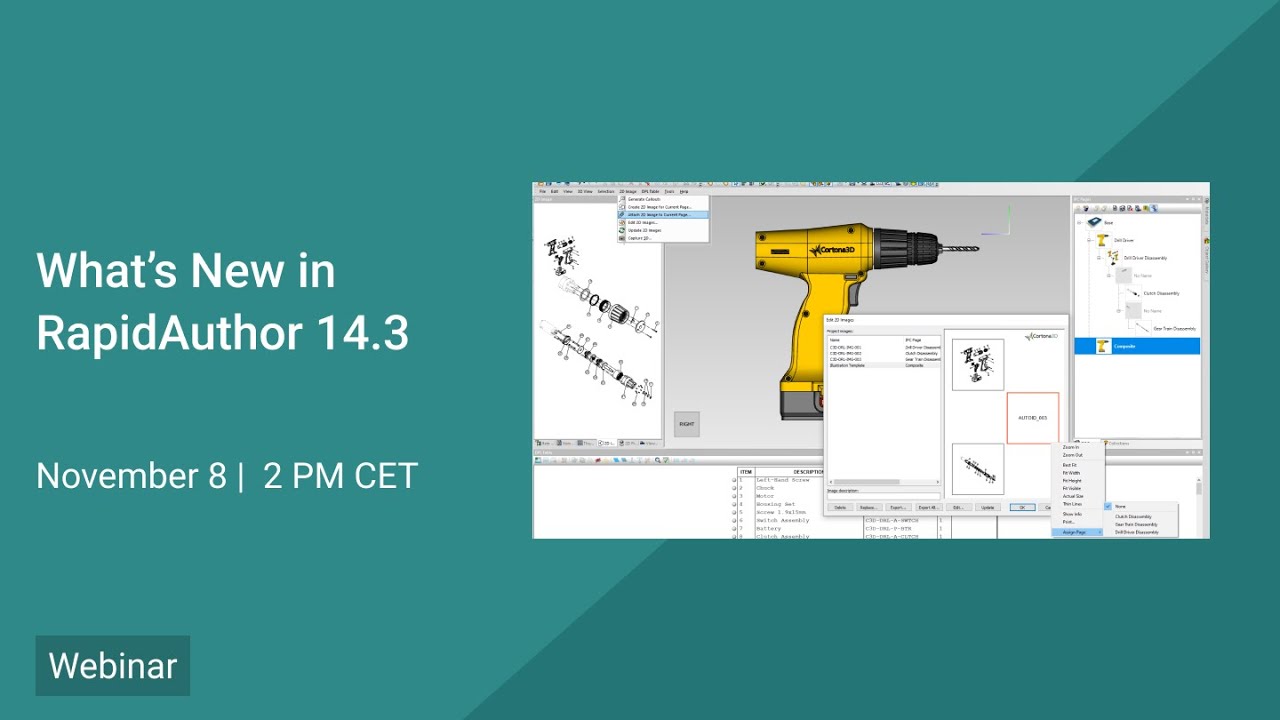 What's new in RapidAuthor 14.3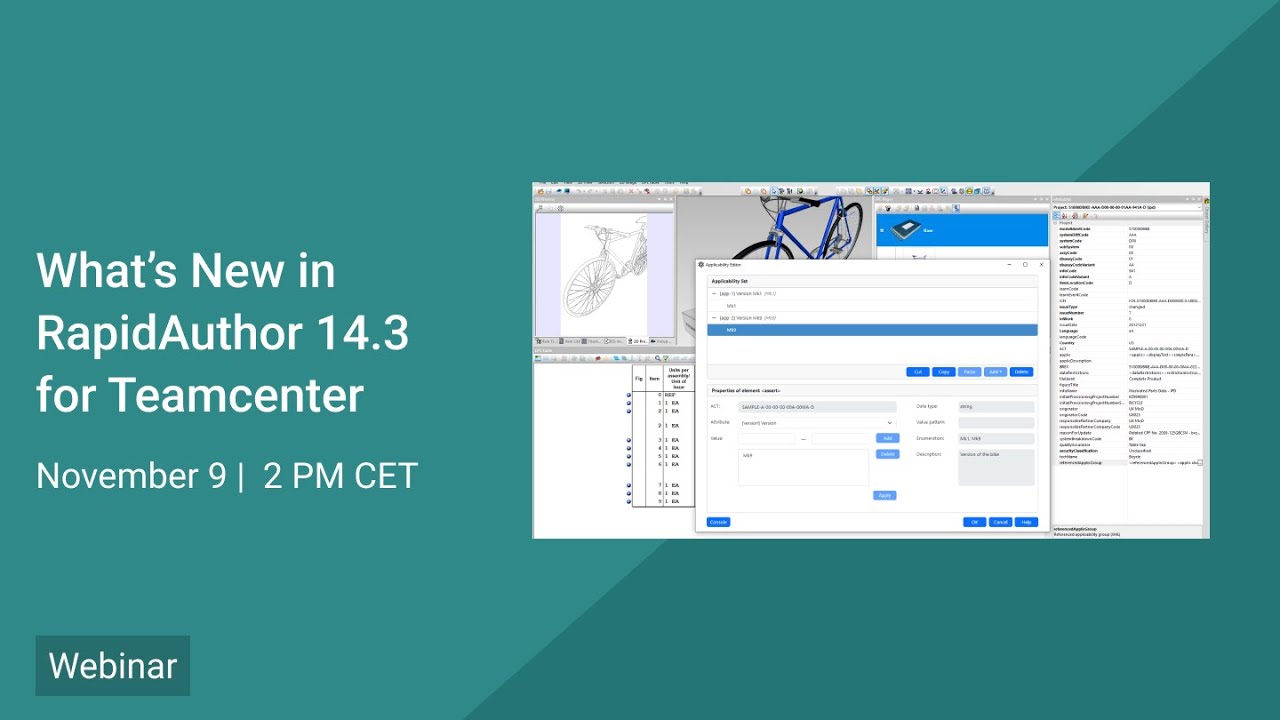 What's new in RapidAuthor 14.3 for Teamcenter
Key Changes in Version 14.3
Convenient editing of applicability using the ACT data module: users can now efficiently manage applicability within S1000D content with the help of the Applicability Editor available in RapidManual, RapidCatalog, and RapidText. Additionally, users can easily edit PCT modules in the Applicability Editor and utilize filtering in HTML publications. View on YouTube>>
Streamlined Integration with Teamcenter: significant improvements in authoring S1000D and DITA content within Active Workspace speed up the authoring process and improve collaboration among teams.
Creation of composite illustrations containing multiple views:  users of RapidCatalog and RapidIllustrator can showcase comprehensive visual representations of their products and components. View on YouTube>>
Colorful vector illustration with raster background: users can now generate interactive vector 2D illustrations that are rich in color, going beyond the traditional black-and-white approach. View on YouTube>>
Refined 2D editing: numerous improvements in both vector and raster editing enhance the overall editing capabilities and make the process more efficient and user-friendly.
Generation of IPC-pages from the ModelView of the root JT when importing PLMXML files: Model views can now be imported from Teamcenter assemblies if the root Teamcenter assembly contains a JT file. View on YouTube >>
Support for JT Reference Sets:  users can now configure, through the import profile, which reference set should be imported. They can specify a list of required reference sets and change their priorities accordingly.
RapidAuthor and RapidAuthor for Teamcenter Enhancements
General Authoring
Create 2D composite illustrations to effectively convey context and manage page layouts:

Define reusable composite illustration templates for multiple projects.
Combine existing illustrations into composite ones.
Automatically update composite illustrations.

Generate vector illustrations with raster background.
Thumbnails for IPC pages provide a clear catalog structure in RapidCatalog.
Perform frequently used tasks in the Document Editor faster than before with the new buttons: Comment, Processing Instruction, Table Tags, Zoom, and Adjust Graphic Width.
Create more realistic animations of hoses and other parametrical objects with the new Phantom Box object. Unlike before, where points had to be attached to real objects, it is now possible to attach them to an invisible placeholder.
Display items and faces count in the status bar with digit grouping.
MPP Job Card: document formatting improved. Objects used in operations are no longer shown in the document text.
Update enhancements:

Preserve the part representation level.
Maintain the position of details moved on IPC pages when they are replaced with assemblies.
Accept DPL updates associated with broken 3D item updates.
S1000D Authoring
Simplify applicability management within S1000D content by selecting and applying available options, eliminating the need for manual XML writing:

Construct module and content applicability for data modules using parameters defined in the ACT data module.
Utilize a hierarchy of logical statements to define applicability.
Apply content applicability to the content in IPD.

Display PCT items in S1000D 4.1 or later IPD specifications by using a new filter in the HTML preview.
Editing of 2D CGM Images
The custom color palette lets you add, remove, rename, import, and export user colors.
Support for masks to hide elements of an image. View on YouTube >>
Improved user experience with the Color Picker in the Property Inspector.
Ability to flip objects over selected axis.
Convenient conversion of text to Callout objects and vice versa.
New Halo styles for simplified using of Halos.
New functionality for splitting lines, single-segment polylines, and polybeziers into a specified number of equal segments, as well as the capability to split multi-segment polylines, polybeziers, arcs, and ellipses into individual segments. View on YouTube >>
Create a grid based on two lines or an ellipse.
Ability to change undo buffer size.
Highlight segments that will be removed when using Virtual Segment Delete tool.
Ability to hide in Property Inspector default CGM dash and hatch styles.
Improved editing of raster 2D images:

Resize, rotate, and skew images with greater flexibility.
Effortlessly flip or rotate image fragments.
Conveniently resize image fragments using the mouse.
Dim background to highlight the edited raster image.
Improved mouse pointer for the drawing tools (pen, eraser, line) indicating the tool size.
The new "Paste Transparent" command enables pasting image fragments with transparency while preserving the original image.
Data Import
Support for new CAD formats*: NX-2212, CATIA V5-V5_6R2023, Solid Edge-2023, SolidWorks-2023, Parasolid-35.1, Autodesk Inventor-2024, Autodesk Navisworks-2024, Creo 10.0 and ACIS Reader 2023.
Metadata mapping rules now allow multiple conditions for more precise import configuration.
Support for JT Reference Sets**.
Ability to use the Saxon XSLT engine when importing PLMXML files**.
Generation of IPC-pages from the ModelView of the root JT when importing PLMXML files**.
*   Relates to: RapidAuthor, RapidDataConverter for Teamcenter.
** Relates to: RapidAuthor for Teamcenter, Rapid JT Component.
Publishing
In RapidAuthor publications, there is now an option to show or hide the navigation cube.
In RapidCatalog and RapidIllustrator publications, the "Keep camera upright" option allows you to maintain proper camera orientation.
Other Changes
Discontinued support for Microsoft Windows 8.1.
Discontinued support for DirectX 9 and OpenGL renderers.  
RapidAuthor Connector for Teamcenter Improvements
Manage S1000D administrative objects in RapidAuthor Administrator without the need for Rich Client.
Clone data module in Active Workspace.
Edit S1000D applicability in Teamcenter with the new Applicability Editor, available in both Rich Client and Active Workspace.
Reuse graphics and multimedia objects from the Teamcenter Content Management for DITA authoring.
RapidCompiler Enhancements
Enjoy full support for all out-of-the-box specification components and benefit from new options such as updating documents, accepting all changes, and updating 2D illustrations. Customize operation parameters to meet your specific needs, update projects without importing PLMXML data, and easily republish publications.
New Features in RapidDeveloper and RapidDeveloper for Teamcenter
Metadata mapping rules now allow multiple conditions for more precise import configuration. This feature offers enhanced flexibility, ensuring that content is imported based on specific requirements.
Improvements in RapidDataConverter for Teamcenter
Expand your capabilities with support for new CAD formats: NX-2212, CATIA V5-V5_6R2023, Solid Edge-2023, SolidWorks-2023, Parasolid-35.1, Autodesk Inventor-2024, Autodesk Naviswork-2024, Creo 10.0, and ACIS Reader 2023.
see Cortona3D software in action
Get answers to your questions, experience a live demo, and find out how Cortona3D can help your business