interview
Smart Manufacturing Summit 2023: Insights from Cortona3D Experts
5 April 2023
What were your overall impressions of the Smart Manufacturing Summit in Stuttgart?
Alexander Grafov, VP Business Development at Cortona3D: Overall, everything was very pleasant. The event was impressively well-organized, the venue was comfortable and welcoming, and the city itself was beautiful. I wish I had a little more time to interact with the delegates, but there was enough time to establish mutual interest and arrange to continue the conversation.
Moritz Menzel, VP Strategy at Cortona3D: I had a great experience at the summit. The pandemic has made it challenging to catch up with colleagues and meet new people, so attending an in-person event again was refreshing. The Smart Manufacturing Summit provided an excellent platform for networking and knowledge-sharing in the field.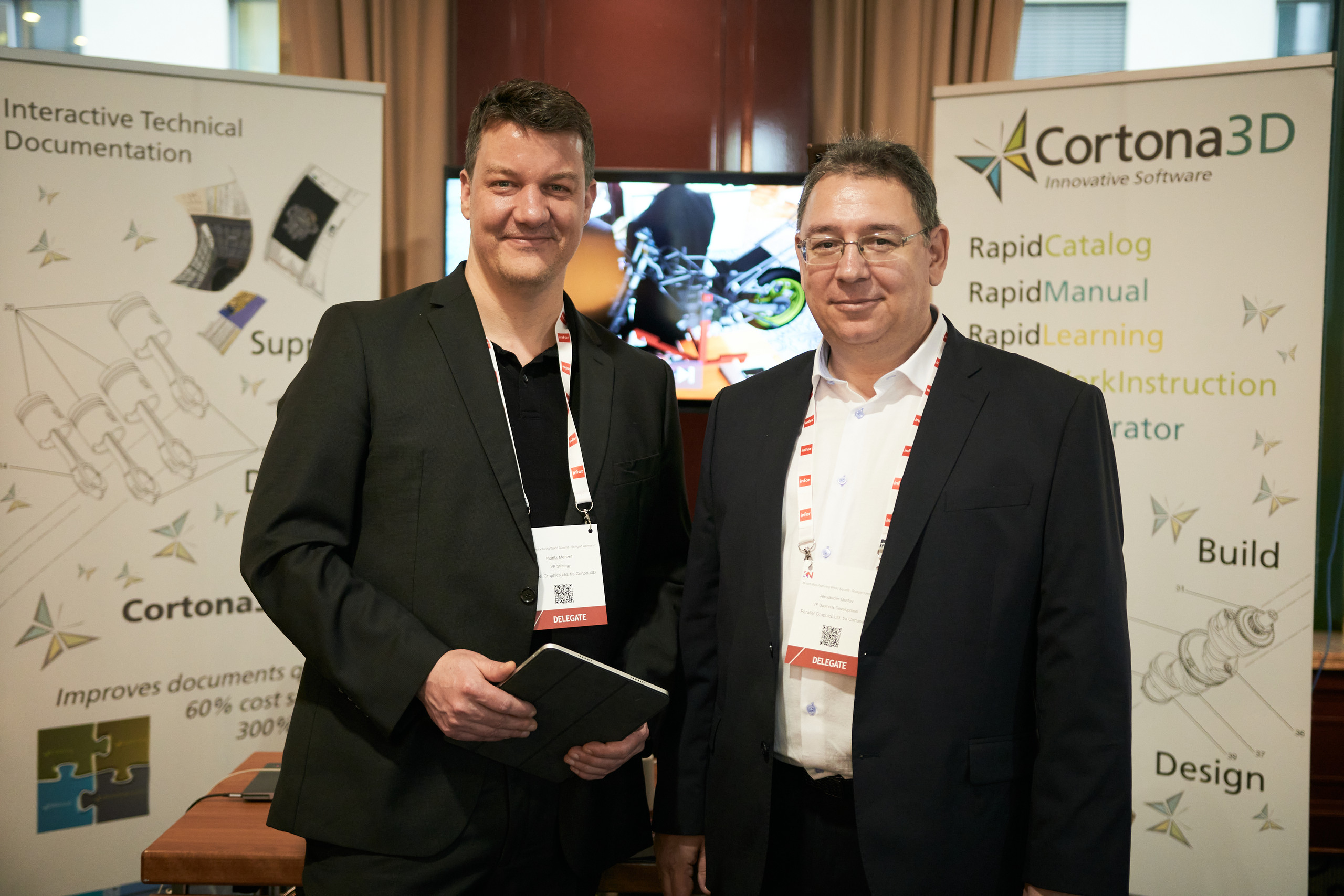 What stood out to you?
Alexander Grafov: What stood out to me was the balance between a calm atmosphere and professional nature of the summit. Typically, exhibitions of this kind are associated with hustle and bustle, but in this case, everything was organized so that despite the more laid-back pace, we found a significant number of useful contacts by the end of the day. Moreover, the attendees themselves were well-curated, and there were no irrelevant or off-topic exhibitors present.
Moritz Menzel: Since it was a small event, the atmosphere was quite relaxed, and visitors to our booth took their time, leading to productive conversations. In larger events, it becomes challenging to engage in longer discussions due to time constraints. Additionally, it was a pleasure to meet Alex, some of our existing partners, and potential new partners in person. This experience cannot be entirely replicated with online meetings.
Were there any particular presentations or discussions that you found particularly interesting or valuable?
Alexander Grafov: Of course, practically all meetings were valuable. Conversations with representatives from actual manufacturers gave us invaluable information about the practical value and usage of our technology. This allowed us to consider how we could enhance our product capabilities to meet the real expectations of the technological stage in the product lifecycle.
What new trends or technologies did you see at the summit that you think will have an impact on the manufacturing industry in the coming years?
Alexander Grafov: In general, the summit highlighted the increasing capabilities of automation and process control, as well as the use of spatial tracking technology. I also noticed a significant trend associated with the possibilities of analyzing existing information and automatically generating decisions.
Moritz Menzel: In terms of trends and technologies, there was a strong focus on sustainability, decarbonization, and other related topics, which is not surprising given their importance. Additionally, AI and automation were prominent themes in many talks, and it's clear that they will continue to shape the manufacturing industry in the coming years. However, there was also a notable emphasis on the importance of people, as there is a fear that automation could replace the workforce. This serves as a reminder of the vital role humans still play in the industry.
Overall, the summit provided a great opportunity to explore new trends and technologies, and to have meaningful discussions with visitors. We had a lot to offer and planned discussions on the topics of automation and AI, which allowed for productive conversations with attendees.
Were there any challenges or concerns that were discussed at the summit that you think the industry needs to address?
Alexander Grafov: Change management, quality control (including position accuracy, impact, and other physical parameters), and staff motivation were some of the challenges that were discussed at the summit and need to be addressed by the industry.
Moritz Menzel: Although not entirely new, green topics are becoming increasingly important due to actual good will or regulations. 
How do you think the manufacturing industry will change over the next decade?
Alexander Grafov: The manufacturing industry will see increasing automation, reducing the amount of human control necessary. We are moving towards practically fully automated production, perhaps even with partially automatically generated product manufacturing tasks.
Moritz Menzel: I believe that machine learning and AI will further accelerate automation and greatly impact the manufacturing industry's operations and optimization strategies. Although human review remains essential, many workflows cannot be fully automated. Nonetheless, there is a clear trend towards more and more automation and we need to ride that wave.
How do you think Cortona3D can contribute to this transformation?
Alexander Grafov: We see ourselves playing an important role in the digital transformation of the manufacturing industry. Cortona3D solutions can provide the right information to any point in the complex processes where human presence and expertise is still required. Our comprehensive work instructions and spare parts catalogs are designed to be easily understood by operators at all levels, and our automated content generation capabilities can help authors create maximum content with minimal effort. This not only reduces documentation costs but also enables further automation and reuse of documentation.
Additionally, our visual component simplifies understanding in different languages and allows for feedback from digital documentation during execution, which can be transferred to related systems for further optimization. Finally, our ability to publish traditional, 3D, or virtual/AR representations from a single digital source ensures that our clients have the flexibility they need to succeed in today's rapidly changing manufacturing landscape.
Moritz Menzel: Higher quality technical documentation can bridge important gaps in the manufacturing industry. With experienced engineers retiring, valuable knowledge is often lost, but we can help by storing and reproducing the information that the newer generation needs for training, maintenance, and production. The pandemic has also highlighted the need for remote work and less travel, and high-quality technical documentation can support these efforts. And the more we can support the industry in creating this high-quality tech docs through full and semi-automation, the easier it is for them to actually have it available and benefit from the advantages.
Thank you for asking. We are committed to continuing to develop innovative solutions that meet the evolving needs of the industry.
What kind of feedback did you receive from attendees who visited the Cortona3D stand at the summit?
Alexander Grafov: More than 80% of visitors who were previously unaware of our capabilities were interested and expressed a desire to continue the conversation. How serious this is, we will see in the next two weeks, but overall, practically everyone recognized the important value of our technology for production optimization. In this sense, we definitely lived up to the name of the Smart Manufacturing Summit exhibition.
Moritz Menzel: Despite not being very active in production yet, we were pleased to find that the majority of visitors to our booth at the event, aside from our existing partners, showed a keen interest in our products and recognized the potential benefits. It was encouraging to see that many visitors expressed curiosity in our technology, with most turning out to be potential partners rather than potential customers.
Did you have any conversations with other companies or industry experts that you think could lead to future collaborations or partnerships for Cortona3D?
Alexander Grafov: Definitely. We had numerous conversations with companies and industry experts, and some of them showed potential for future collaborations and partnerships with Cortona3D. By combining the benefits of digital documentation and timely delivery, along with a reliable channel for providing factual information on completed operations, we see great potential for joint development of our technologies to improve production processes.
How do you think events like the Smart Manufacturing Summit are important for driving innovation and progress in the manufacturing industry?
Alexander Grafov: We are pleased to participate in events like the Smart Manufacturing Summit as they provide a platform for showcasing our capabilities and exchanging ideas with industry leaders. It is an opportunity for us to demonstrate how our technology can drive innovation and progress in the manufacturing industry, and to connect with like-minded solution providers who are focused on finding practical solutions to real-world problems.
Moritz Menzel: Innovative ideas should solve a real problem instead of creating a new one. The first step here is a clear understanding of that problem and we get there by exchanging thoughts and knowledge with our peers. Events like the Smart Manufacturing World Summit are the perfect place to do just that.
Are there any upcoming events or conferences that the Cortona3D team is looking forward to attending or participating in?
Alexander Grafov: As a technology partner with Siemens DISW, we are looking forward to our participation in two major events: the PLM Connection Germany at the Lufthansa Training Center near Frankfurt in June, and Realize LIVE 2023, the largest European forum to be held in Munich in July. We invite everyone to visit us at booth #35 and #1, respectively. Besides these events, we are exploring potential exhibitions and conferences in Europe and around the world.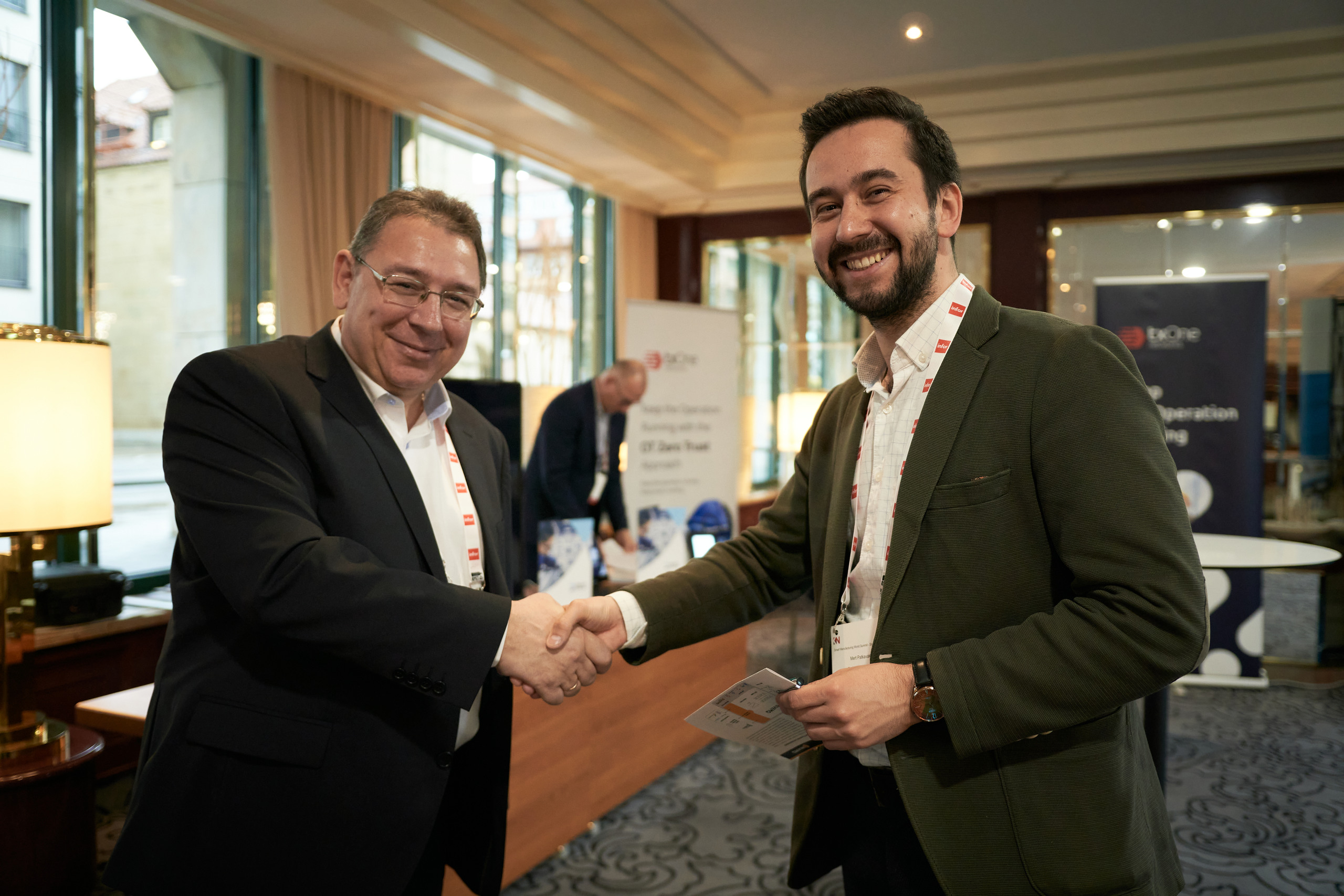 Finally, what are your main takeaways from the summit and how do you plan to apply them to your work at Cortona3D?
Alexander Grafov: Participating in events like the Smart Manufacturing Summit provides invaluable insights into the advantages of our products, industry trends, and real expectations from end-users. We plan to apply these takeaways to further develop our technology and expand our presence in the industry. Building and maintaining relationships through face-to-face meetings with potential partners is also crucial. These events generate positive momentum and hope for further progress, which is particularly important in uncertain times. We are grateful to the organizers for the opportunity and look forward to making good use of what we have learned.
See Cortona3D software in action
Get answers to your questions, experience a live demo, and find out how Cortona3D can help your business